If you have extra cryptocurrency that you aren't actively using, then it makes sense to try to turn it into a passive income stream. One popular way of doing so is with crypto loans. With the help of crypto lending platforms, you can easily earn interest on your crypto by lending it to others. But which is the best crypto lending platform?
Cryptocurrency Lending
Before we can explore the top crypto lending platforms, you need to understand a few crucial things about lending cryptocurrency.
CeFi Platforms
The first thing to understand is the difference between centralized and decentralized platforms. Centralized finance (CeFi) platforms are very similar to banks in many respects. You deposit your crypto onto the platform, and they act as a middleman between you and the borrower.
The platform will lend out your crypto for you, and you earn a floating interest rate. That rate fluctuates based on supply and demand. Importantly, your crypto is stored on the CeFi platform since they are custodial. This can make them targets of hacking. CeFi platforms also frequently have higher fees than DeFi ones.
It is also worth noting that most CeFi platforms require you to go through a KYC process. As such, you can't expect anonymity.
DeFi Platforms
DeFi (decentralized finance) platforms rely on smart contracts instead of being custodial. Your crypto is not stored on the platform. Instead, it sits in an escrow account and is controlled via smart contracts and the blockchain. Everything is automated.
You tend to earn more from DeFi platforms since they will not act as intermediaries and therefore don't take a cut of the profit.
Security
As mentioned, CeFi platforms can be a more appealing target for hackers, as they are custodians of the crypto. Of course, DeFi platforms can also be at risk of hacks. The more important consideration is how secure the platform itself is.
Supported Cryptocurrencies
Every crypto lending platform will offer a slightly different range of cryptocurrencies. Bitcoin lending is an incredibly common option, as is Ethereum lending. Some platforms will also let you lend Tether, taking advantage of the fact that its value is tied to the USD.
That being said, if there is a particular cryptocurrency that you want to lend, you can likely find a platform that lets you do so. This is more likely to be the case with more popular cryptocurrencies, as there must be a demand to borrow it.
Of course, if you want to lend your crypto and can't find a platform that supports lending that one, you could always convert it to another.
Earn interest or borrow crypto with SmartCredit.io
SmartCredit.io is the fastest way to get involved with decentralized finance.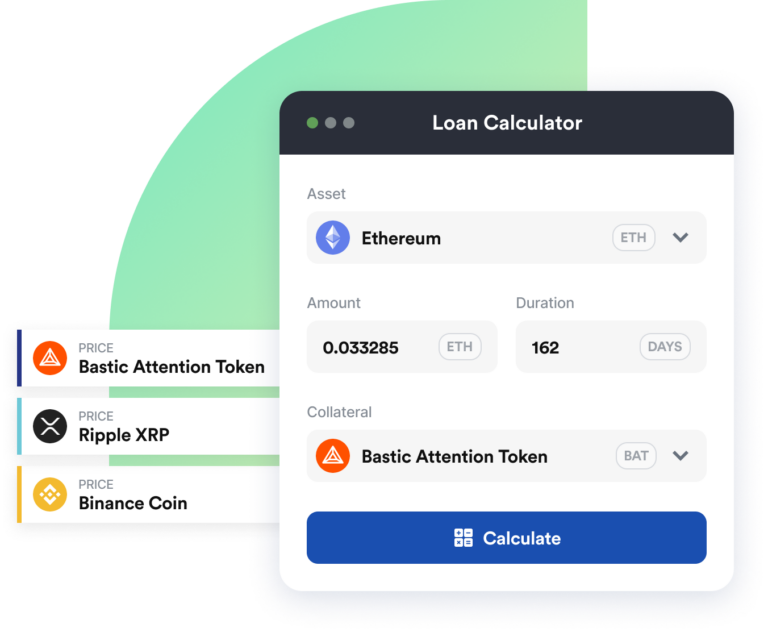 Rates
The rates you earn for lending will vary greatly by platform. As mentioned, most CeFi platforms will offer floating rates based on supply and demand. The best DeFi platforms offer fixed rates so you can accurately estimate your earnings.
Best Cryptocurrency Lending Platforms
The following are some of the best crypto lending platforms that you will find. Any of them would be a reasonable choice, although some are better than others.
SmartCredit.io – This is a decentralized peer-to-peer lending marketplace with a global reach. The co-founders have executive experience with Credit Suisse as well as decentralized finance.
Nexo – This Swiss platform was among the first to offer crypto lending and instant loans.
Celsius Network – In addition to offering the ability to lend crypto, Celsius lets you stake crypto for lower interest rates and offers rewards in the native token, CEL.
Blockfi – This is among the largest crypto lending platforms. It doesn't have a minimum balance or any hidden fees.
Binance – Binance is mostly known as one of the most popular crypto exchanges, but it also offers the ability to lend crypto.
MakerDAO – This is among the largest platforms for crypto lending that has a native token, DAI. It allows for more than 25 cryptocurrencies as collateral.
AAVE – This platform has a non-custodial protocol that allows for bug bounties and flash loans in addition to traditional crypto loans.
Gate.io – This company lets you lend and borrow crypto as well as buy, sell, or trade it. You can also use it to store funds in spot accounts for trading.
Kucoin – This is primarily a cryptocurrency exchange, but it also offers the ability to lend cryptocurrency, cloud mining, and other services.
How to Select a Crypto Lending Platform
As the above list implies, there are many choices when it comes to where to lend your cryptocurrency. With so many options, how do you choose which platform to use? Consider the following factors.
Interest Rates
It should go without saying that one of the things to consider is the interest rates that you will earn. After all, your goal when lending your crypto is to earn interest, so a higher rate is better. By contrast, if you wanted to borrow crypto, you would want to look for a lower interest rate.
As you compare interest rates, pay attention to the fee structure as well. Some platforms will advertise an interest rate and then charge you fees after you earn. Others may already factor their fees into the interest rate. Confirm what the platform you are considering does for an accurate comparison.
Security
As mentioned, security is crucial for any crypto platform, including crypto lending platforms. After all, remember that all cryptocurrency transactions are final. Look for a history of hacks, and if there was a previous hack, see how the platform has addressed the situation.
The key here is to look for a platform that clearly lists its security practices. It should also have good reviews regarding those security practices.
Available Cryptocurrency
While you can convert your cryptocurrency before lending, you have likely invested in a given crypto for a reason and don't want to change it. Simply put, if you want to lend in a certain cryptocurrency, make sure your chosen platform supports it. The best platforms will clearly list which cryptos they support on their website.
Available in Your Location
Some crypto lending platforms will have geo-restrictions, meaning that you can only access them from certain regions or countries. It should go without saying that you want to choose a platform that supports your region. Of course, if you try to register on a platform that doesn't operate in your region, you will likely discover that it isn't possible very quickly. Even so, starting the process can be a waste of time.
Loan Terms that Fit Your Preferences
You also want to pay attention to the loan terms of your chosen platform. If you want fixed terms for your loan, look for a platform that offers it. Some lenders prefer the flexibility that comes from non-fixed terms, but this can also lead to uncertainty and increase the risk somewhat. Choosing a platform with fixed terms lets you plan better. You also typically get the ability to set your own fixed term, so it fits your needs.
Minimums and Maximums
Some platforms will set minimums or maximums for lenders or deposits as a security measure. If you want to lend a certain amount, ensure that it falls within your chosen platform's accepted range.
Collateral
You should also look at the collateral required to get loans. You may think this will not affect you as a lender, but it gives you an idea of how secure your crypto is.
Conclusion
When choosing a cryptocurrency lending platform, look for one that is secure and supports the crypto you want to lend. Pay attention to interest rates and loan terms. SmartCredit.io keeps your crypto safe with non-custodial lending, fixed-term loans, and fixed interest rates.
Lend your cryptocurrencies with SmartCredit.io.