Things to know about borrowing USDC with SmartCredit.io
Trusted by industry leaders
The process of getting a USDC loan at smartcredit.io is easy! It only takes four simple steps! However, before we can show you how, there are a few important things you need to know.
What is a Smartcredit.io USDC loan
Smartcredit.io facilitates instant USDC loans for anyone HODLing of Bitcoin, Ethereum, or several other cryptocurrencies.
The loan amount will depend upon the loan-to-value ratio calculated via algorithmic smart contracts that determine the amount of collateral you'll place.
Once smartcredit.io finds an appropriate lender, you receive your loan amount instantly, and your collateral is locked in the smart contract.
You're required to repay the loan and some interest at the end of the loan period. The lender can only liquidate your collateral if you default payment or the value of your collateral sinks way below a predetermined level.
Should you take a USDC Loan
You've seen the value of your digital assets grow over the years, and you believe there's still great potential.
You don't have to lose your long-term investment forever because of a temporary emergency when you can take a quick USD loan instead.
Once you take a USDC loan, your collateral is locked securely within the smart contract, and there are all chances that its value would have increased during the loan period.
As soon as you repay your loan plus interest, you receive the exact amount of cryptocurrency you placed as collateral.
The good news is that if the bullish trend persists, your digital assets will be worth much more.
If you spent the USDC you borrowed wisely or even re-invested it, you would receive an even more significant return on investment.
How to Apply for Smartcredit.io USDC Loans
Getting USDC loans has never been easier, there are four essential steps to follow, and you're done.
Visit smartcredit.io and choose your collateral from the list of 15 available options before setting USDC as your preferred loan currency.
Enter the loan amount, duration, and collateral.
Connect your Metamask wallet, transfer the collateral to the smart contract, and click 'Get Loan.'
Receive your loan, spend it, and payback at the end of the loan period
That's it, no complicated processes.
Why Take Smartcredit.io UDSC Loans
There are numerous benefits of taking USDC loans. With the crypto market developing to become like the stock market, you can borrow USDC coins and enjoy the benefits of crypto investment.
Some benefits of taking smartcredit.io USDC loans include:
You can take advantage of short-selling opportunities,
Benefit from crypto hedging,
Perform day-to-day duties without selling your crypto assets,
Lower collateral ratio compared to other platforms,
Choose from 15 collateral options.
SmartCredit.io's decentralized peer-to-peer global lending marketplace
connects lenders and borrowers without intermediaries.
Only borrowers/lenders control their assets; no one else has access.
Fixed-term loans for borrowers and lenders. That's how we reduce the collateral ratio.
No fluctuating interest rates for borrowers or lenders. We're protecting your assets and income.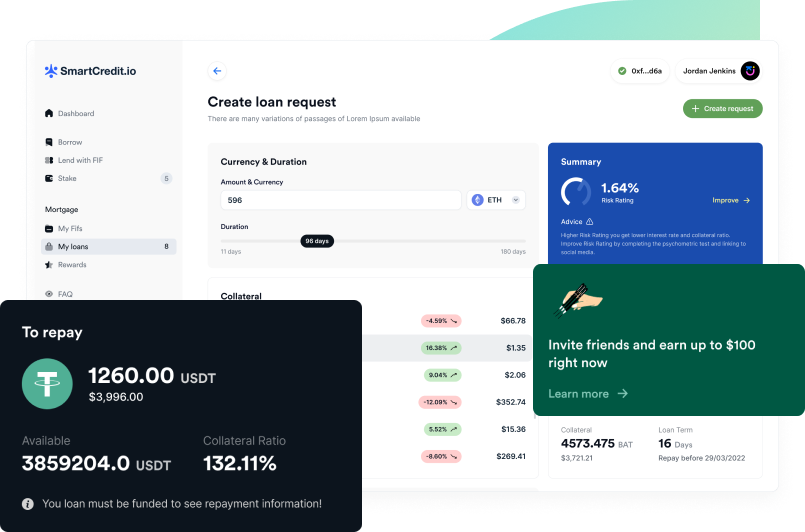 Find out more about SmartCredit.io.
Get general information about SmartCredit.io and our business model via this PDF file.

For the latest announcements and business-related posts, visit our Medium profile.

We created dedicated documentation and tutorials for our application.