Crypto Personal Fixed Income Fund
Build your first personal income fund to earn interest on crypto with three easy steps
Trusted by industry leaders
Crypto Personal Fixed Income Fund
SmartCredit.io's decentralized peer-to-peer global lending marketplace
connects lenders and borrowers without intermediaries. Automate the process with a crypto personal fixed income fund.
Only borrowers/lenders control their assets; no one else has access.
Fixed-term loans for borrowers and lenders. That's how we reduce the collateral ratio.
No fluctuating interest rates for borrowers or lenders. We're protecting your assets and income.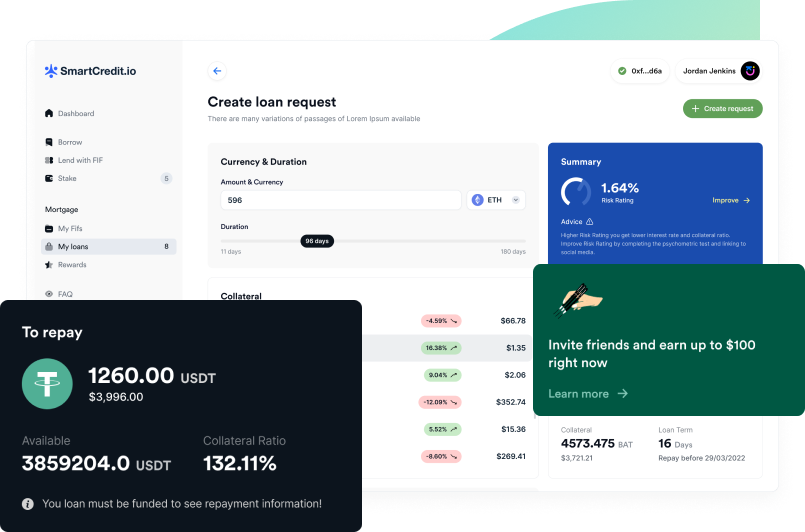 We are always here for you.
Crypto Fixed Income Funds replicate Fixed Income Funds from traditional finance.
You define your preferences – either you prefer short-term lending (with less APY) or longer-term lending (with more APY). You can mix different maturities, and you can mix variable interest rates and fixed interest rates.
After that, you deposit your funds. That's it.
Then an algorithm makes automated investments for you to help you earn more.
However, there are big differences compared to traditional Fixed Income Funds – there is no sharing with other investors, there are no fees, and the funds belong only to you.
You will be able to earn interest with our fully automated personal Fixed Income Fund solution.
The investment process is automated: Behind every Personal Investment Fund is a smart contract, which follows the investment rules.
Borrowers don't need to wait for funds: Personal Investment Funds make automated investments.
Passive lenders will receive passive income: Lenders need to define only their investment rules; they deposit funds, and that's it. The rest is an automated process.
FIF's will invest in loans with different maturities: Lenders can get exposure to the entire yield curve, and they can earn a better return on a given risk.
But even more – the passive lenders can mix the variable rate and the fixed rate.
If passive lenders prefer very high flexibility, then they can invest more into the "0-10 days bucket" (this bucket has a variable rate of the Compound protocol) and into the "11-30 days" buckets.
If passive lenders prefer higher APY, then they can invest more into the "31-90 days" or "91-180 days bucket".
The passive lenders are in control – they decide what is important, they define the investment rules. The FIF's follow the investment rules of the passive investors.
The Crypto Fixed Income system is suitable for passive investors, providing you with a fixed, safe, and significant income. Moreover, the capital you have does not need to be very high.
You can use SmartCredit.io as a borrower or a lender.
Borrowers will have the advantage of fixed interest rates and low collateral ratios. The collateral ratios are lower because fixed-term loans allow calculating optimal collateral ratios based on the market conditions.
Lenders can define their Personal Fixed Income Funds, which replicate what a traditional fixed-income fund does but without the high fees and with funds that are only in your name that no one else can access.
As you see, we've two products for income seekers; Crypto Lending and Crypto Fixed Income. Crypto fixed income is an automated algorithm that invests for you. Crypto lending is manual, so if you want to create supply for the requested loans automatically, continue with Crypto Fixed Income; if you're going to do this manually, continue with crypto lending.
Find out more about SmartCredit.io.
Get general information about SmartCredit.io and our business model via this PDF file.

For the latest announcements and business-related posts, visit our Medium profile.

We created dedicated documentation and tutorials for our application.