Things to know about borrowing ETH with SmartCredit.io
Trusted by industry leaders
Smartcredit.io facilitates the peer-to-peer lending process by connecting lenders to borrowers. They provide a platform for both parties to strike a deal on a blockchain-based smart contract.
Like in the traditional system where banks and lending institutions are involved, the borrower pays the loan back on time with interest on top of the loan amount. The lender makes a profit by earning interest on the amount they lend out. Take note that:
There are no middlemen involved or lawyer fees to pay.
The programmable smart contract software self-executes and eliminates the cumbersome paperwork that often takes weeks.
Users access ETH loans at lower rates than from traditional sources
Lenders benefit by earning passive income
Benefits of Borrowing ETH Loans
Just like the benefits that blockchain technology brought into the financial industry, borrowing and lending ETH loans have two significant advantages:
It makes the process of borrowing and lending better and more efficient,
Ensures people who couldn't get loans previously are included.
Crypto as Collateral
Don't mind that your bank may not consider your crypto assets as anything of value. For DeFi lenders, cryptocurrency is collateral you can use in a straightforward process that's more accessible than traditional systems.
Low-Interest Rates
The main reason traditional banks and lending institutions charge high interest on loan products is to support their vast budgets.
Smartcredit.io ETH loans are more affordable because they only involve two parties; the borrower and lender. Smartcredit.io offers the platform that enables peer-to-peer borrowing or lending.
Speed
Unlike the process involving traditional lenders that takes weeks, blockchain technology guarantees a faster and more efficient process of obtaining ETH loans. The process can take minutes or a few hours since Smaratcredit.io doesn't involve intermediaries.
Transparency
Blockchain technology ensures your personal details are hidden from all and sundry. However, all transactions are available in an immutable public ledger. All transactions are available for inspection and anyone can check and verify which transactions have taken place.
Retain your Crypto
Cryptocurrency offered as collateral for ETH leans is safe and secure. You remain the rightful owner and can continue to enjoy their value once the loan period ends.
Benefits of Lending ETH to borrowers
Idle crypto assets in your digital wallet don't add any value to your investment. Use them instead to earn passive income by lending ETH loans to borrowers. The benefits of being an ETH loan lender include:
Earning a yield from your formerly static digital assets,
There's always a chance to lend due to an increasing demand for new loans,
Your crypto assets are safe since ETH loans are over collateralized, meaning you can safely liquidate the borrower's collateral if they fail to repay the loan.
SmartCredit.io's decentralized peer-to-peer global lending marketplace
connects lenders and borrowers without intermediaries.
Only borrowers/lenders control their assets; no one else has access.
Fixed-term loans for borrowers and lenders. That's how we reduce the collateral ratio.
No fluctuating interest rates for borrowers or lenders. We're protecting your assets and income.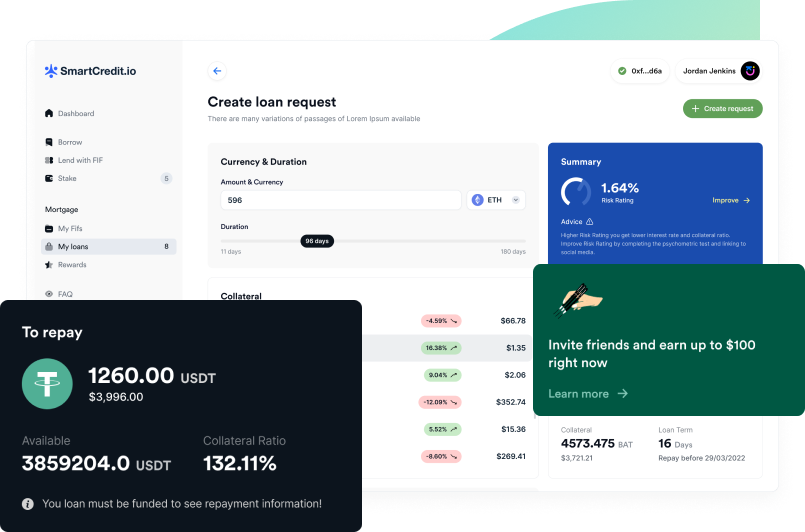 Find out more about SmartCredit.io.
Get general information about SmartCredit.io and our business model via this PDF file.

For the latest announcements and business-related posts, visit our Medium profile.

We created dedicated documentation and tutorials for our application.