Earn fixed interest on your crypto savings
SmartCredit.io is the fastest way to get involved with decentralized finance. Start earning interest on crypto with three easy steps.
Trusted by industry leaders
Lending Crypto with SmartCredit.io
SmartCredit.io's decentralized peer-to-peer global lending marketplace
connects lenders and borrowers without intermediaries.
Only borrowers/lenders control their assets; no one else has access.
Fixed-term loans for borrowers and lenders. That's how we reduce the collateral ratio.
No fluctuating interest rates for borrowers or lenders. We're protecting your assets and income.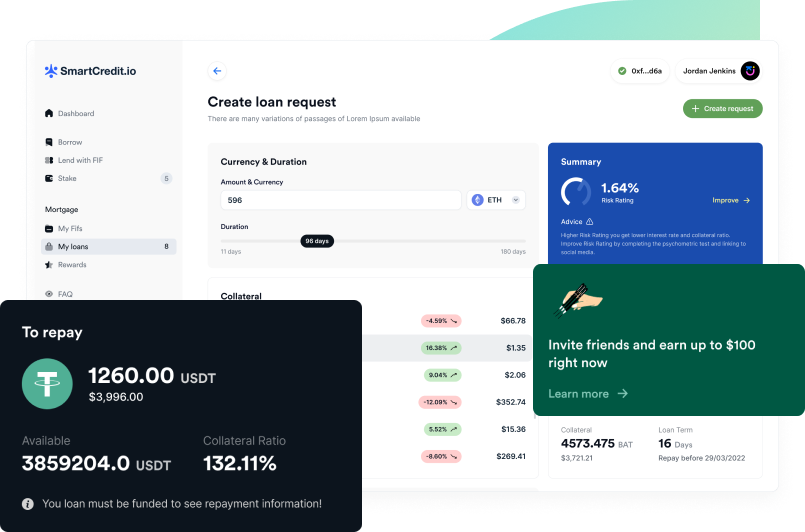 We are always here for you.
The borrower enters the loan request and adds collateral to his loan request. The system automatically calculates how much collateral the borrower needs to submit.
The lender can then accept the borrower's loan request and transfer the funds to the borrower. Smart contracts will keep the borrower's collateral until the end of the loan term.
At the end of the loan term, the lender will receive the principal and interest payments from the borrower.
If the borrower does not pay, the system will liquidate the borrower's collateral, and the proceeds will cover the principal plus interest payments.
If collateral liquidation proceeds are not enough, the loss provision fund will jump in and fill the gap.
Additionally, the lender can define a Personal Fixed Income Fund. When this occurs, the entire process is automated for the lender, allowing them to earn some passive income on their assets.
As you see, we've two products for income seekers; Crypto Lending and Crypto Fixed Income. Crypto fixed income is an automated algorithm that invests for you. Crypto lending is manual, so if you want to create supply for the requested loans automatically, continue with Crypto Fixed Income; if you're going to do this manually, continue with crypto lending.
Non-custodial lending: only borrowers/lenders control their assets; no one else has access to the borrowers/lenders assets
Borrowers have low collateral requirements
Wide choice of collateral for the borrowers
Fixed-term loans: this allows borrowers to reduce the collateral requirements
Fixed interest loans: this protects borrowers and lenders against the herding movements on the markets and the resulting fluctuating interest rate
Personal Fixed Income Funds enable a passive income for passive investors
Widgets for integration: SmartCredit.io offers borrow and lend widgets for the integration partners. These widgets are easy to integrate. And integration partners will earn the loan origination revenues.
Find out more about SmartCredit.io.
Get general information about SmartCredit.io and our business model via this PDF file.

For the latest announcements and business-related posts, visit our Medium profile.

We created dedicated documentation and tutorials for our application.